SJK (Tamil) Ladang Rinching Wins National Tamil Schools' Hockey Tournament
Pix courtesy of Star Hockey Club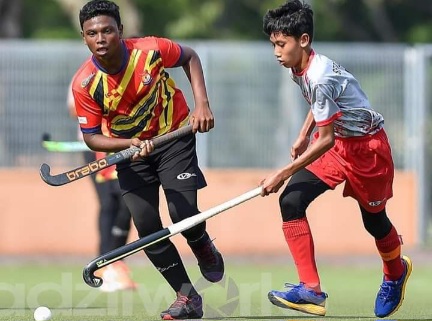 SJK (Tamil) Ladang Rinching's hockey team capped their string of successes for the 2022/2023 school year, by lifting the National Level Tamil Schools' Hockey Tournament 2023 challenge trophy on Sunday.
The team members who are part of Star Hockey Club based in Semenyih, Selangor thrashed their opponents, Pulau Penang A, 3 – 0 in the finals at the Taman Daya Hockey Stadium in Johor Baru. The second runner up in this Gold Pool was Kedah A.
The team's striker, Givaneshan Sivamurugan, also won the top scorer award having scored 10 goals throughout the tournament while Santos Nakulan who scored two goals in the finals was named best player. The best goalkeeper award went to Pulau Pinang A's Pervin Vivekananthan. The Kedah B team was bestowed the Fair Play Team award.
In the second ranking Silver Pool, Johor swept all three titles: Johor A (champion), Johor B (runner up) and Johor C (second runner up). In the third ranked Bronze Pool, SJK(T) Ladang Rinching B comprised of Star Hockey Club's junior players were runners up to Negeri Sembilan B with Pulau Pinang B, the second runner up.
One of Star Hockey Club's founders, Kaalitash Subramaniam who is a SJK(T) Ladang Rinching teacher and hockey team manager said the hard work put in by his players under coach, Gopal Krishnen, over the past few years had brought great success this year. "Winning top place among Malaysian Tamil schools in this tournament organised so well by Impact Hockey SJKT Johor, is a most fulfilling moment for our school.
"It is notable that our boys also won the Tampin Invitational Hockey Tournament and were runner-up in the Selangor Champion Schools MSSS Hockey Tournament earlier this month."
Kaalitas said Star Hockey Club's mission to use hockey as an intervention to uplift the morale and spirit of underperforming Tamil school pupils who came from poor families, had proved to be a great success.
He added that the club had successfully sent several batches of its players to the various government Sports Schools for secondary education over the last few years, to ensure a continuity of their success in sports and school studies.
Malaysian Hockey Confederation president, Dato' Sri Subahan Kamal who gave away the prizes at Sunday's event said such tournaments would help to uncover more young hockey talents among the Indian community. "This will enable more participation of Indian hockey players at the national level," he added.
Impact Hockey SJKT Johor head Dominig Savarimuthu said the aim of the tournament was to give national exposure to Tamil school hockey teams. "We hope to organise a similar tournament for girls hockey teams next year. We have already successfully held a Johor level girls hockey tournament so far.
Ends